J&J Metro File Archiving
File Storage
Records Management
Document Storage
Medical Record Storage
Tracking & Retrieval
Phone & Fax Review
Scan on Request
Overview
Document Destruction
Overview
Secure Document Containers
Disposal Reminders
Why Shred?
Retention Schedule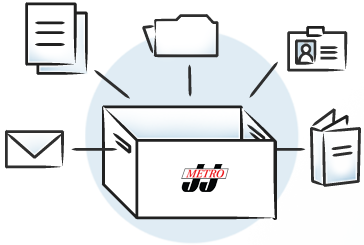 J&J Metro provides Orlando Medical Record Storage for Practices, Clinics, and Hospitals of every size. As the requirements for Medical Records Management continue to change, practices need to stay updated on the latest Regulations and ensure compliance with the latest Records Retention Requirements. With these additional responsibilities, it's more important than ever that Healthcare Organizations have a trusted Partner for Medical Records Management.
Simple Orlando Medical Document Management
Orlando Medical Records Storage Management consists of managing all information relating to the operation of a Healthcare Practice, including filing and storing Patient Charts, Scanning Medical Records, ensuring adherence to regulations and retention schedules, and managing the destruction of medical records after their retention period. Medical Records Management also involves effective administration of a Practice's non-Clinical information including accounting records, contracts, and other business-related documentation. J&J Metro is your full service archiving system.