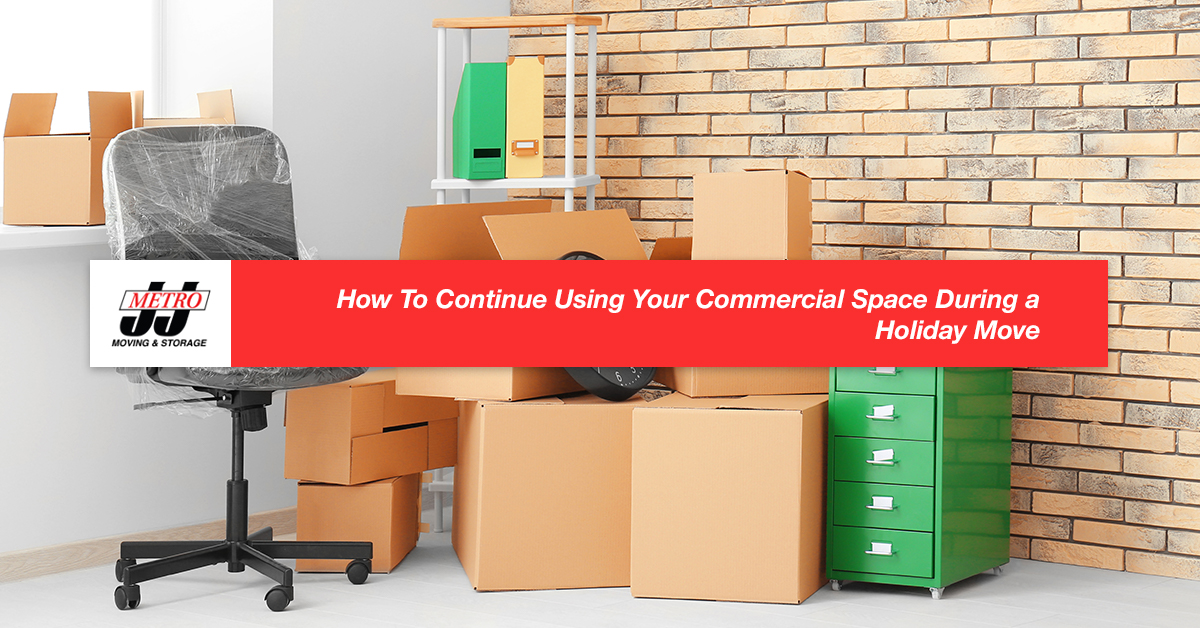 Moving any time of year can be chaotic, but especially during the holidays. Luckily, we don't have to contend with snow, ice, and wintry weather here in sunny Central Florida during "winter," but moving your business in the heart of the holiday season can still be quite hectic. During the holidays, commercial spaces like offices, boutiques, and restaurants are often used as gathering spaces for work parties and other festive events. Using these spaces can save business owners on the mounting costs of renting out event centers and pubs, which is why many simply host their holiday celebrations in the comfort of their own commercial spaces. What's more, retail shops and boutiques rely on holiday traffic to generate revenue during their most important season.
Sometimes, though, businesses must relocate to a new location right smack in the middle of the holiday season. This can make it difficult to host social events, promote holiday sales, and more. But don't you worry one bit, because the professional commercial movers in Orlando at J&J Metro Moving and Storage have some tips for using these spaces during your holiday move. Give us call to find out how else we can help you with a move, and stick around to learn our helpful tips for continuing to use your commercial space during a holiday move.
Five Ways To Use Your Commercial Space During A Holiday Move
Get Into the Christmas Spirit
There are so many simple joys in hanging Christmas lights and decorating an office space. Not only can it boost your employees' moods, but it can also give your customers and clients a little extra happiness when they come to your business. Plus, doing so can lighten the mood and reduce the stresses of moving during the holidays. It may seem like one more thing to do, but if it's something you enjoy, get into the holiday spirit despite having to move during this time.
Use It As An Opportunity to Get Organized
If there's one thing that is certain about the holidays, it's that we tend to hold onto holiday decorations for years or longer, all the while adding to the stockpile of decorations we've built. If you want to get into the holiday spirit by decorating your business, decorating your commercial space gives you the opportunity to get rid of those out-of-date holiday decorations that you've had forever. Make a donations box or simply toss the unwanted items. That way, you can get all or mostly new replacement decorations for your new space. Even better, there will be one less thing to pack and move with you!

Stack and Hide Items Under Christmas-colored Blankets
If you plan to host a holiday get-together at your commercial space in the midst of a move, there are ways you can hide the chaos of your move. First, create a central space where people will spend most of their time. Second, safely stack as many boxes as you can off to the side, up against walls, and out of the way. Third, drape Christmas-themed tablecloths, blankets, and other types of covers over stacked boxes and other unsightly moving items. This will help you create plenty of space for socializing while spreading holiday cheer at the same time!  
Plan a Holiday Party For After You Move Out
If you want to host one last "hurrah" for the holidays, save the festive celebration for after your move-out date. Obviously, you will still need access to the space, but this is a great way to not only celebrate the holidays, but to also create one last memory in the space where you've spent so much of your time in recent years.
Turn A Holiday Party Into A Cleaning Party
The holidays are a time when people feel incredibly giving. Now, we're not suggesting you take advantage of anyone's kindness, but you can always turn a festive gathering into a move-out cleaning party. You might not want to make this the holiday party for your company, but it would be a great opportunity to get together with employees to put on some Christmas songs, make some festive drinks, eat some yummy snacks, and clean up your old commercial space. This can make your holiday move much easier.
Call Your Friendly Commercial Movers
When you want to streamline your holiday move, our expert commercial movers in Orlando are ready to help! We know just how stressful a holiday move can, which is why we want to make your business relocation as easy and as stress-free as possible. When you have to relocate your business to a new space — during the holidays or year-round — we would be happy to assist you. We can pack, move, and unload all your belongings safely and with the utmost care. You'll work with one point-of-contact who will manage every step of your commercial move so you can focus on celebrating the holidays with family, friends, and employees. Give J&J Metro Moving and Storage a call to schedule everything from an office move to an entire warehouse relocation. Contact us for a moving quote today!
From all of us J&J Metro Moving and Storage, we wish you and yours a happy holiday season!
Looking for residential movers for a holiday move? We do that, too! We even offer secure storage for businesses and residents who need to store their belongings during a move. Call us today to learn more about our residential moving and storage services!