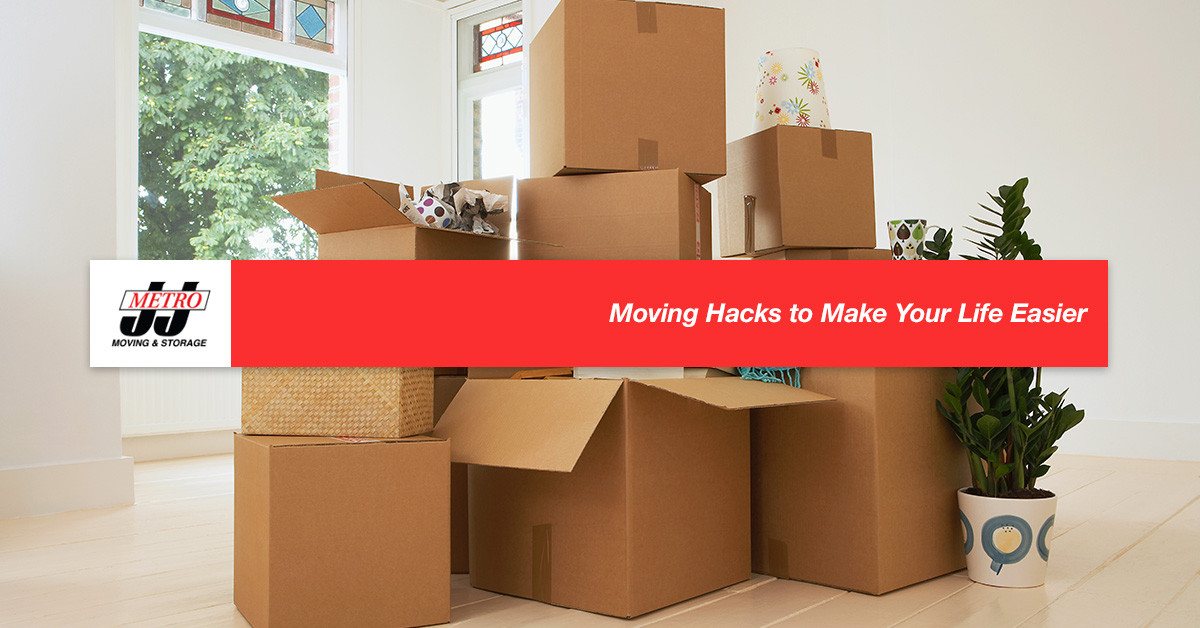 Often thought of as one of the more chaotic events in our lives, moving can put unbelievable amounts of stress on us. Whether you're moving your large family across the country, or your small family across town, moving isn't easy or effortless for anyone. There are loose ends to tie up, numbers to change, keys to drop off, papers to sign, movers to call, and then comes packing.
Packing can and often does overwhelm us, especially if we have children. There is so much to think about and depending on how much time and energy we have to invest in packing, it can be something that is hastily and sloppily done if we're not careful. Lucky for you though, we've thought of some of the best ways to pack smart. Though this is often the norm, it is enormously inconvenient once we finally get into our new homes, to find our belongings broken, unorganized, or completely MIA because we can't remember which boxes contain what. In this blog, we'll discuss some of the smartest packing and moving hacks that are sure to simplify your big move.
Have Enough Supplies
When we're moving, whether we have huge amounts of items to move or not, we often underestimate the amount of time, money, and boxes it takes to pull it all off. The sheer number of boxes required is about enough to induce madness in a normally sane person. It's normal to aim low when it comes to boxes, tape, and other packing supplies. A good rule of thumb is to get acquire enough boxes so that you have at least ten left when you're "pretty much done." That way, you'll be able to have a way to pack all of the random stragglers that you just don't know what to do with.
Get The Right Boxes
This might not seem like a very important tip, however, if you've ever made a mover lift an extra large box full of books, then this tip is right up your alley. Think about what you're needing to pack before you blindly purchase boxes. For example, if you have a lot of books, get small and medium-sized boxes to pack them in. If you're trying to find a good way to pack your large flat screen T.V, there are boxes that are specifically made for items like that. If you have a lot of clothes, take advantage of wardrobe boxes and store things like pillows or blankets in the bottom. These wardrobe boxes are great, but they're not ideal for heavy things, so keep that in mind.
Keep A Master List
We feel that this is the theme of so many moves: you pack in a late-night frenzy to make sure that you're done before the movers get there in the morning, (because that's an absolute must), and now, three weeks later, you can't find anything. Keeping a master list will take more forethought on the front end, but we promise that you will not regret it. Simply keep a numbered list of your boxes and a summary of each box's contents while making sure that you're numbering all your boxes accordingly. That way, you'll never have to question what is contained in each unlabeled, mystery box. We assure you, this hack will make you feel like the Evil Knievel of moving.

Color Coordinate
Let's say that you're unable to wrap your exhausted mind around the idea of numbering your boxes and keeping a corresponding list. We understand, you've been through a lot. A great compliment or substitute to the number system is incorporating the color-coding system. This will make your movers adore you. If you have a specific color for boxes going to the kitchen, the bedroom, the bathroom, garage, etc, there will be no confusion about what boxes are going where. To achieve this, you can either pick up a few colorful labels or if you're wanting to take this color system seriously, pick up boxes of different shades. Again, this can work magic when it's alongside the number system or used instead, it's simply whatever it easiest for you.
Start Early
When you're moving, there are few things that are more stressful than having to throw all of your stuff together last-minute. For this reason, it's wisest to get a head start on your move. If you can start packing even as much as a month early, you will thank yourself later. We suggest starting with rooms or items that don't get regular or daily use. This way, your house will become packed up gradually and the stress you'll feel on the days leading up to moving day will be largely reduced. Additionally, as we mentioned above, make sure that you're not still packing when the movers get there. This will avoid any awkwardness or extra stress on your end.
Pack Smart
Ok, we know, this is a huge and general category, so listen up because we're going to go fast:
Pack items of value carefully
Cushion breakables with towels or clothing to pack both at once
Don't have any boxes that aren't sealed and secure
Cut handles in boxes that don't have them to ease moving process
Pack plates and breakable platters vertically to help avoid breaking
Pack books or other heavy items in rolling suitcases
Combine and consolidate liquids and cleaning products
Cover openings of toiletries and other liquids with saran wrap under lid to avoid spills
Vacuum seal bags of clothing
Keep a few small plastic baggies to hold things like bolts and keys
Moving is surely a bigger life event but it doesn't have to be the thing that causes us to lose our minds. Thankfully, there are ways to make your move easier, even dare I say it, stress-free? Plan your move accordingly and think it through, and hey, don't be a hero. If you're facing fast deadlines and you don't think you can physically or mentally pull off a move of this magnitude, hire a packing service! This will surely take the stress out of packing.
In fact, the right company will pack your belongings with care, and then professionally move you to your new location. J&J Metro Moving and Storage would love to help you with your move! We do residential moving, commercial moving, packing, and storage. Contact us today for a free estimate!