We go the distance for your long distance move.
As a full service moving company, we know what goes into a long distance move. Whether you're moving locally, interstate, or cross country, our highly trained team of professionals will make sure your move goes smoothly.
We start by providing you with a personal move consultant. Your consultant will identify your needs and create a custom move plan with services tailored just for you.
Perhaps you just need a team of professional movers to load your boxes, move them safely to your new home, and then unload them in your new space. Possibly you just need someone to expertly pack your fragile items. Or maybe you want a moving team to handle the packing, the loading, the moving, and the unpacking. Either way, our team of full-time, fully trained crews and supplier crews will treat your belongings and your property as if they were their own.
You'll like the way we move.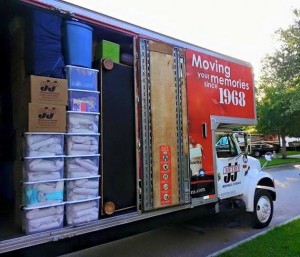 J&J Metro Moving and Storage is proud to have been serving our customers since 1968.
Every J&J Metro crew member is a full-time professional —accountable and committed to delivering the highest level of customer care. Everyone here is accountable. Before crews can even pack or load a thing, they go through intensive training where they learn how to properly prep spaces for a move, how to pack and unpack, and how to load. After every move, our move crews are evaluated to ensure the highest levels of service and care.
It's no wonder J&J Metro has one of the lowest claims rate in the industry, and why 98% of our customers wouldn't dream of making another move without us.
Trucks and transport that keep you moving.
Our fleet are all GPS-enabled trucks and are all designed to meet your needs. There's no one-size-fits-all here. Instead, we choose the truck that will best fit your move. Each truck is designed for efficient loading, and maximum protection of your belongings while in transit. All trucks are fully maintained to ensure optimal performance and safe handling. We reserve extra trucks for each move just in case plans change. It's why our load times are on time—100% of the time. Additionally, all trucks tread lightly on the earth with an aggressive fleet sustainability program.
Itemized inventoried lists.
At J&J Metro, organization is king. If you're moving into storage, or out of state, we carefully inventory each and every item and its condition before it's loaded onto one of our trucks. That way, we can know exactly what we're transporting, and effectively track your shipment. Want to see an inventoried list?
Tuck your worries and your belongings in storage.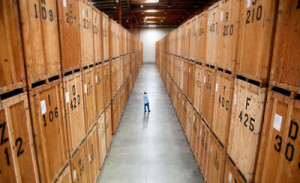 Don't want to take everything with you? Need a simple, affordable storage solution to unclutter your house while you get it ready to sell? J&J Metro Moving and Storage offers a variety of storage solutions.
For long distance moves, please review the information supplied by the Federal Motor Carrier Safety Administration, Your Rights and Responsibilities When You Move.