J&J Metro File Archiving
Store Everything, Easily.
File Storage
Records Management
Document Storage
Medical Record Storage
Tracking & Retrieval
Phone & Fax Review
Scan on Request
Overview
Secure Document Containers
Disposal Reminders
Why Shred?
Retention Schedule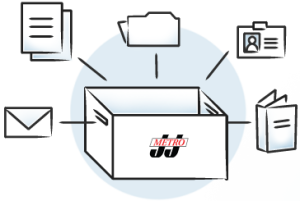 At J&J Metro, our mission is to help our clients save time, money, and headaches. We do this by making the records management process work for companies that archive their documents and retrieve records using the "needle in the haystack" method. With J&J Metro, no more time is wasted digging through boxes and boxes of old files in a cramped storage room or a hot warehouse looking to find a document.
Ready to make archiving easier… Click Here