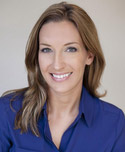 Customer Relations
t: (407) 875-0000 x9300
e: jennifer.hanke@jjmetro.com
Jennifer Hanke, a veteran of the United States Navy, served as a Weather Forecaster during Operation Iraqi Freedom and Operation Enduring Freedom. She currently has her Bachelor's degree in Business Administration from California State University-Fresno. Jennifer is a member of The Junior League of Greater Orlando, an organization of women that promotes volunteerism and improving the community. She also enjoys spending time with her family especially, acting as a parent coach for her daughter's dance team.